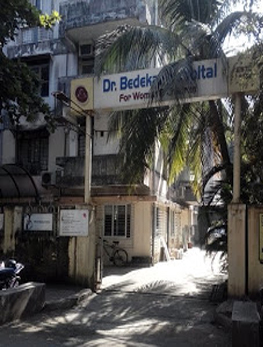 Dr.Bedekar Hospital is one of the oldest hospital in Thane. It was started about 60 years back in 1950, just three years after the Independence of India in 1947.
Thane was a small city then, and Naupada where hospital is situated was a Grampanchayat. The hospital had an advantage of being very close to Thane Station. Next to Hospital was an open ground, Gavdevi Maidan, and there were very few old bungalows with Mangalore tiles in the vicinity. Few blocks away from the hospital was the ancient masunda lake of Thane. Very soon it became a land mark in Thane city, and now it is a postal address to near and distant houses.
Vasudeo Narayan Bedekar, the founder of the hospital was looking for a suitable place to start his practise. After completing his primary education at a small village, Goval near Rajapur, Dist.Ratnagiri, he joined his elders in Rajapur to continue his secondary schooling. He was very brilliant student all throughout his school carer.After his matriculation his mother insisted that he should go to Pune for higher education. He passed from S.P. College, Pune and was to get admitted to J.J. Hospital for his medical education. It was not possible for him to support financially in Mumbai. So he decided to go back to B.J.Medical College, Pune for his medical education.
His sister promised him to support. He ranked first in many subjects and thus was getting scholarships, which helped him complete his medical education. This had a long lasting impact on him and he decided to work for the promotion of education, which he did till his last breath.
He graduated in medicine in 1942. Being war time he had to join British Army to continue his post-graduation. Being hard nationalist, he refused to join Army. He had no choice but to enter the private practise. As he had no capital to start his own practise, he started working as assistant to a senior practitioner, Dr. Joshi at Umbergav. He soon decided to start his own general practise.
He was to start his practise at Vile Parle. Some residents of Umbergav had settled at Thane and had personal experience of his commitment to the patient. They wanted him to come to Thane. A senior doctor Dr.Wadekar on Gokhale road wanted to retire due to old age and was looking for a young doctor to take over his practise. Ultimately he decided to settle in Thane, which later changed the medical and educational landscape of Thane.
Being hard working and highly committed to his profession, he became very popular in the masses. He use to start his practise early in the morning, which use to continue till mid night. Thane was growing in every respect. People were dependent on Mumbai for advance treatment. He decided to start his hospital and invited specialist from all branches of medicine. It was a turning point in his life and Thane health services.
While practising he completed his post graduation in Obstetrics and Gynaecology. His kindness and ethical practise very soon made Bedekar Hospital and dispensary a leading family practise centre in Thane. This reputation it enjoys even today.
The Bedekar Neonatal Intensive Care Unit (NICU)
The birth of a baby is a wonderful yet very complex process.
Your baby's body systems must work together in a new way. Sometimes, a baby has difficulty making the transition to the world. Being born prematurely, having a difficult delivery, or birth defects can make these changes more challenging. Fortunately for these babies, special newborn care is available Dr. Bedekar NICU Hospital